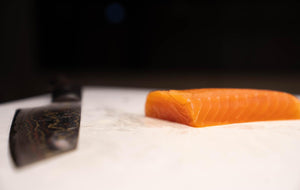 Ambrosia Delicat
Balik Salmon
Sale price Price $76.27 Regular price Unit price / per
Considered by most salmon connoisseurs to be the best smoked salmon in the world, Balik Salmon has its roots in Imperial Russia, in a time when the art of "gastronomy" and the quality of products was celebrated. for the aristocracy. For this reason he is recognized as, "Balik Fillet Tsar Nikolaj No.1".
The Balik company has been producing salmon from the Norwegian Fjords for more than 40 years, using a delicate and mysterious method in which it achieves a flavor never before attainable. It is the smoker who decides with great sensitivity and 33 years of experience, when is the exact moment to take the salmon out of the oven.
Only for those who dare to travel to another world...
Our Balik salmon is cut and prepared in loin in this way the client has the freedom to enjoy the salmon to his liking. Considering that it is considered the best salmon in the world, you will find that this delicacy melts in your mouth.